RIC lists this coin with the obverse legend
IMP C PROBVS INV AVG
but quotes Cohen 632 as its authority. The obverse legend in Cohen is without the
C
---
2nd emission of Siscia, 277 CE.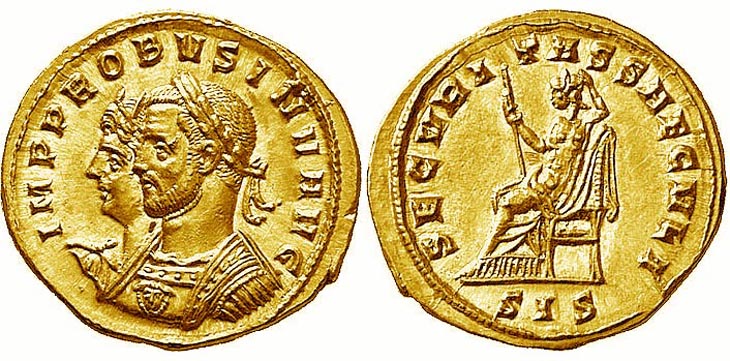 RIC 596 corr., Mazzini pl. LIX, 632; Pink p. 37 #6, Siscia. Denomination: Heavy aureus.


OBV.: IMP PROBVS INV AVG

Jugate busts left of emperor, laureate and cuirassed, and Sol, radiate and draped.

REV.: SECVRITAS SAECVLI

Securitas seated left, holding sceptre and raising left hand to head.

Mintmark: / SIS

Weight: 6.34 g.

Image provided courtesy of: Leu Numismatik AG

Auction Leu 87, 5-6 May, 2003. Provenance: Ex Hess-Leu 36, 17 April 1968, #532.

---

Further references: Cohen 632; Bastien, Le buste monétaire..., pl. 125, 6 (same obverse die) ex Leu 25, 1980, #412; Biaggi 1622; Kent/Hirmer 548 (same dies), Delbrueck pl..26 #16 (same obverse die).
---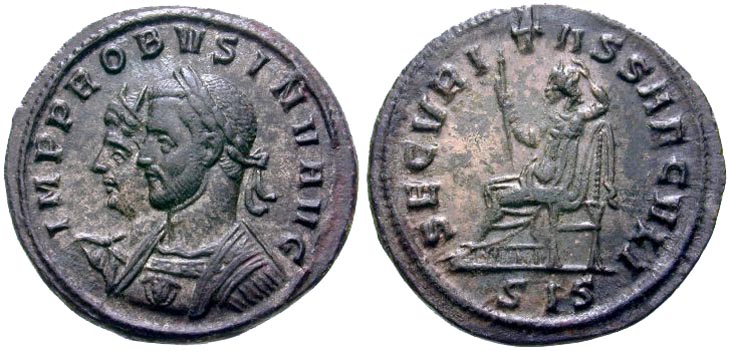 Not listed in RIC, Siscia. Denomination: "Antoninianus".
AE Abschlag from aureus dies. Same obverse die as above.


OBV.: IMP PROBVS INV AVG

Jugate busts left of emperor, laureate and cuirassed, and Sol, radiate and draped.

REV.: SECVRITAS SAECVLI

Securitas seated left, holding sceptre and raising left hand to head.

Mintmark: / SIS

Weight:: 3.89 g.

Image provided courtesy of Anton Tkalec, TKALEC AG

Tkalec Auction 2003, 24 October, 2003