Chronology: Pink's
2nd emission of Siscia
, 277 CE.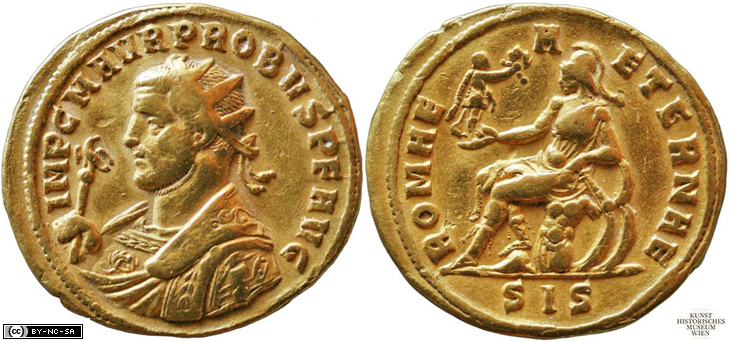 Not listed in RIC, neighbour of RIC 592; Pink p. [37], 49 Nº 4; KMH RÖ 22488 (this coin);
Siscia. Bust type H, (H2). Denomination: Binio.


OBV.: IMP C M AVR PROBVS P F AVG

Radiate bust left in imperial mantle, holding sceptre surmounted by eagle.


REV.: ROMAE AETERNAE Cesures: ROMAE A_ETERNAE


Roma seated left on a cuirass, leaning on three shields, right foot on a helmet (?); Victoriola in right hand, left resting on parazonium.


Mintmark: // SIS

Weight: 8.67 g.
Die axis: 6h.
Diameter: 23.5 mm.


Image provided courtesy of Kunsthistorisches Museum Wien, Münzkabinett
From Collection Tiepolo.

---
Last revision: 20.08.2017