6th emission of Siscia,
279 CE.
Pink
p. 57[45] assigns this to Rome's 5th emission but it is very clearly of Siscia.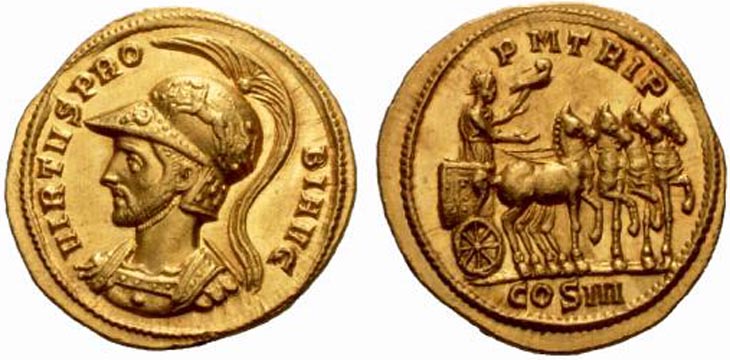 RIC 579; Siscia. Denomination: Aureus.


OBV.: VIRTVS PROBI AVG

Helmeted, cuirassed bust left.

REV.: P M TRI P / COS III

Emperor in quadriga right, holding sceptre, surmounted by eagle.

Mintmark: /

Weight: 6.68 g.

Image provided courtesy of : H.D. Rauch

Rauch Auction 75, 28 April, 2005.
---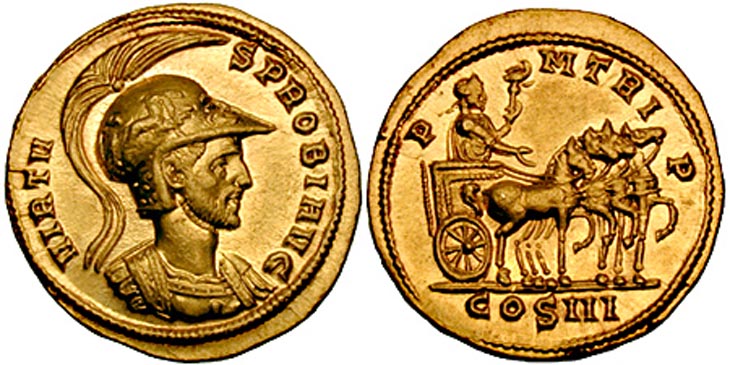 RIC 579 variant; Hunter 182 pl. 44 (same dies); Siscia. Denomination: Aureus.
Not listed for this bust type in RIC.


OBV.: VIRTVS PROBI AVG

Helmeted, cuirassed bust right.

REV.: P M TRI P / COS III

Emperor in quadriga right, holding sceptre, surmounted by eagle.

Mintmark: /

Weight: 6.05 g.

Image provided courtesy of : Freeman & Sear