Note: RIC describes a different bust (with Victoriola), which does not agree with
Cohen 354
which it cites.
Cohen describes the bust as having a sceptre surmounted by globe only.
This is probably a result of misreading a poorly preserved coin where the eagle is not visible.
---
7th emission of Ticinum
, 280 CE.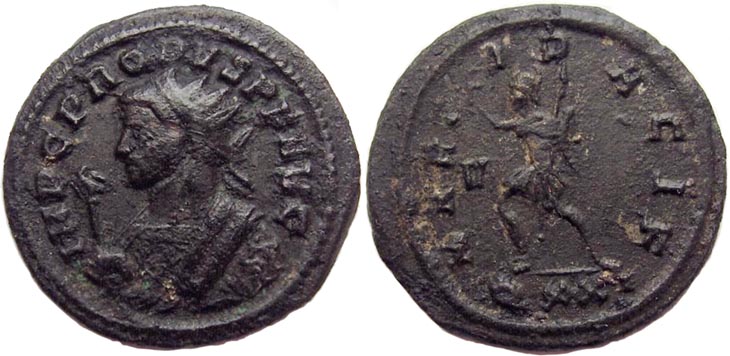 RIC 470 corr., Ticinum. Bust type H. Denomination: Antoninianus.
This coin is part of the AEQVIT series of Ticinum.


OBV.: IMP C PROBVS P F AVG

Radiate bust left in imperial mantle, holding sceptre surmounted by eagle.

REV.: MARTI PACIF

Mars walking left, holding olive-branch, spear and shield.

Mintmark: In left field V // QXXI

AEQVIT

Weight: ?

Image provided courtesy of Stefan Schmidt.