Note: The reverse type of this coin is somewhat misdescribed by RIC — "Hercules standing l., holding trophy, club and lion's skin."
as elsewhere in text "holding trophy" implies "holding trophy over shoulder".
Cohen 298 is cited — "Hercule nu debout à gauche, posant la main droite sur un trophée..."

---
2nd emission of Lugdunum
, XI - XII 276 CE.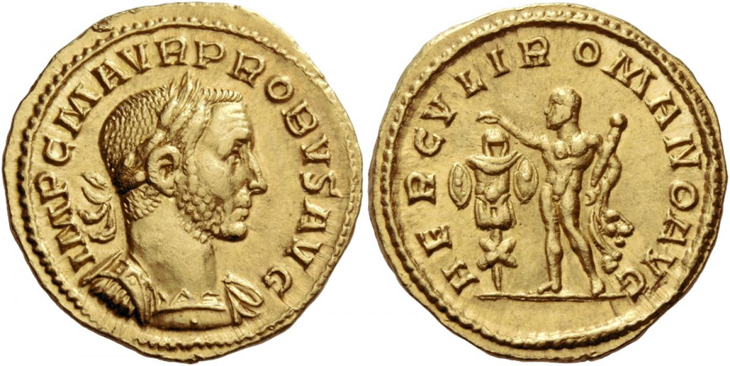 RIC 4 corr.; Bastien 157 (same obverse die); Calicó 4161; Lugdunum. Bust type E. Denomination: Aureus.


OBV.: IMP C M AVR PROBVS AVG

Laureate, cuirassed bust right.


REV.: HERCVLI ROMANO AVG


Hercules standing left with club and lion skin and placing his right hand on top of trophy.


Mintmark: // [exergual line only]

Weight: 6.79 g.
Die Axis: ?
Diameter: ?



Image provided courtesy of Messieurs Russo, NUMISMATICA ARS CLASSICA

NAC Auction 100, 29 May 2017.
---
Last revision: 28.04.2017