3rd emission of Ticinum,
277 CE.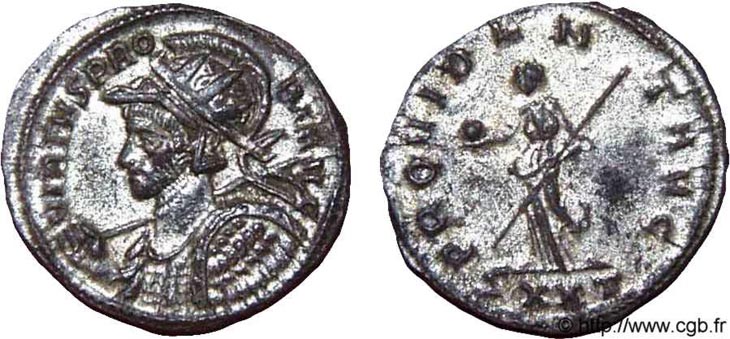 RIC 399, Ticinum. Bust type G. Denomination: Antoninianus.


OBV.: VIRTVS PROBI AVG

Radiate, helmeted, cuirassed bust left., holding spear and shield.

REV.: PROVIDENT AVG

Providentia standing left, holding globe and sceptre.

Mintmark: // SXXT

Weight: ?

Image provided courtesy of Michel Prieur, CGB.
---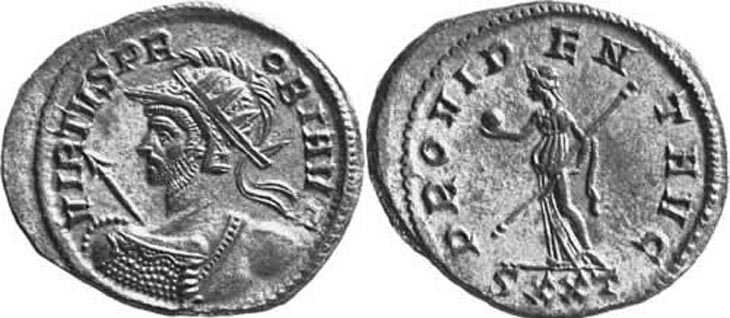 RIC 399 variant, Ticinum. Denomination: Antoninianus.
Not listed for this bust type in RIC.


OBV.: VIRTVS PROBI AVG

Radiate, helmeted, heroically nude bust left, holding spear and aegis, seen from back.

REV.: PROVIDENT AVG

Providentia standing left, holding globe and sceptre.

Mintmark: // SXXT

Weight: 3.71 g.

Image provided courtesy of Gorny & Mosch, GIESSENER MÜNZHANDLUNG

Gorny & Mosch Auktion 126, 14 October 2003