Coins with IOVI CONSERVA, IOVI CONSERVAT, IOVI CONSERVATO
4th emission of Ticinum, 278 CE.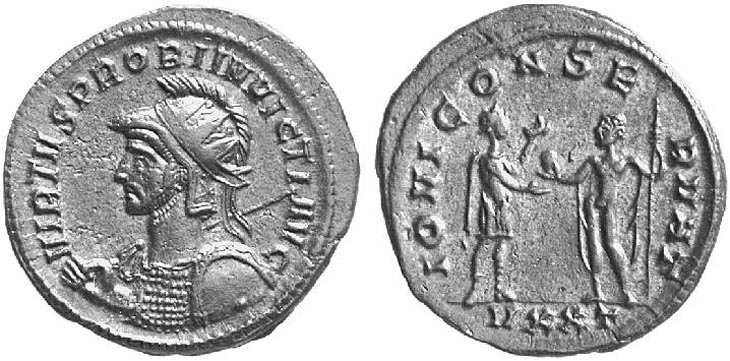 RIC 389 variant, Ticinum. Bust type G. Denomination: Antoninianus.
Not listed for this bust type in RIC.


OBV.: VIRTVS PROBI INVICTI AVG

Radiate, helmeted, cuirassed bust left holding spear and shield.

REV.: IOVI CONSERVAT

Emperor standing right, receiving globe from Jupiter standing left.

Mintmark: // VXXT

Weight: 4.19 g.

Image provided courtesy of Dr. Hubert Lanz, NUMISMATIK LANZ MÜNCHEN

Lanz Auktion 117, 24 November 2003
---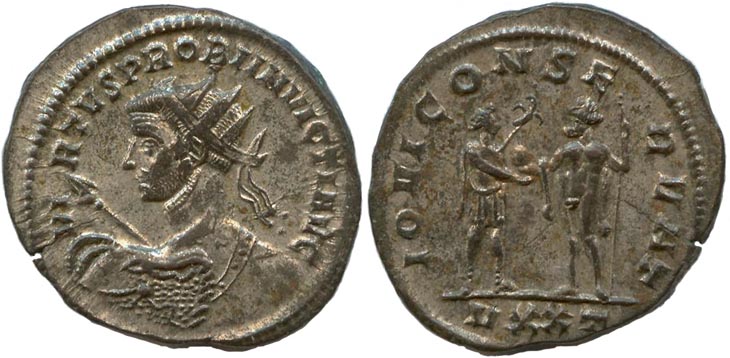 RIC 389, Ticinum. Denomination: Antoninianus.


OBV.: VIRTVS PROBI INVICTI AVG

Radiate, heroically nude bust left, holding spear and aegis, seen from back.

REV.: IOVI CONSERVAT

Emperor standing right, receiving globe from Jupiter standing left.

Mintmark: // VXXT

Weight: 3.59 g.

Image provided courtesy of Philippe Gysen