2nd emission of Rome,
277 CE.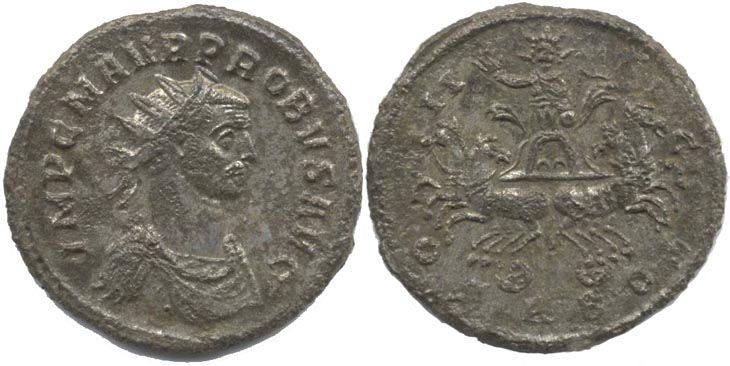 RIC 205, Rome. Bust type C. Denomination: Antoninianus.


OBV.: IMP C M AVR PROBVS AVG

Radiate, draped and cuirassed bust right, seen from front.

REV.: SOLI INVICTO

Sol in spread quadriga holding globe and whip.

Mintmark: R Beta (no exergual line)

Weight: 3.80 g.

Image provided courtesy of Philippe Gysen
---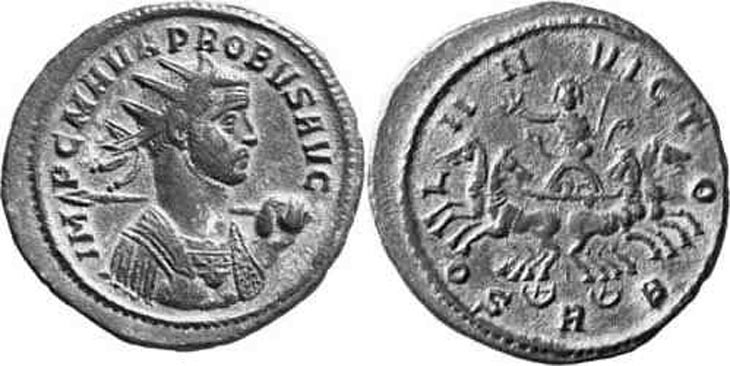 RIC 205 variant, Rome. Denomination: Antoninianus.
Not listed for this bust type in RIC.


OBV.: IMP C M AVR PROBVS AVG

Radiate, cuirassed bust right, holding spear.

REV.: SOLI INVICTO

Sol in spread quadriga holding globe and whip.

Mintmark: R Beta (no exergual line)

Weight: 3.72 g.

Image provided courtesy of Gorny & Mosch, GIESSENER MÜNZHANDLUNG

Gorny & Mosch Auktion 134, 11 October 2004