6th emission of Rome,
281 CE.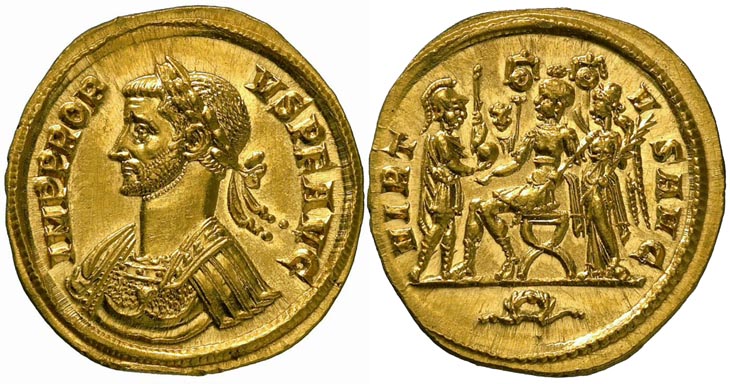 RIC 146. Rome. Denomination: Aureus.


OBV.: IMP PROBVS P F AVG

Laureate, cuirassed bust left.

REV.: VIRTVS AVG

Emperor seated left, receiving globe from Mars and being crowned by Victory;
in background, soldier and two ensigns.

Mintmark: // wreath

Weight: 5.94 g.

Image provided courtesy of Gorny & Mosch, GIESSENER MÜNZHANDLUNG

Gorny & Mosch Auktion 107, 02 April 2001
---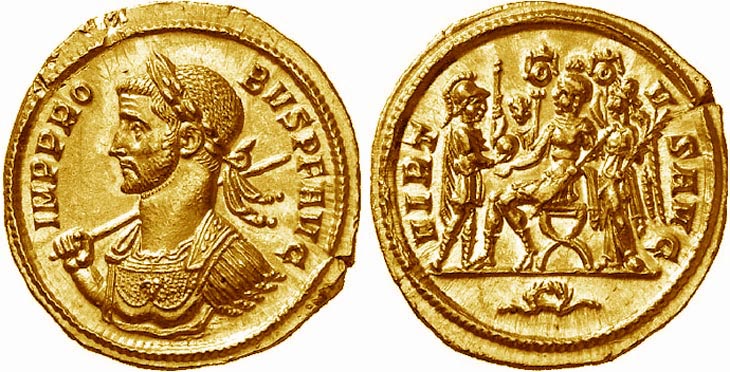 RIC 146; Biaggi 1633 = Calicó 4241 (same dies); Jameson 296a (this coin). Rome. Denomination: Aureus.
Ex A. Moretti, Numismatic Fine Arts XXII, 1 June 1989, 111, Ing. G. Mazzini, IV, pl. LXI, 837 and R. Jameson, ex Merzbacher, 15 November 1910, 2135.

Same reverse die as above.


OBV.: IMP PROBVS P F AVG

Laureate, cuirassed bust left, holding spear.

REV.: VIRTVS AVG

Emperor seated left, receiving globe from Mars and being crowned by Victory;
in background, soldier and two ensigns.

Mintmark: // wreath

Weight: 6.58 g.

Image provided courtesy of LHS Numismatik AG

Auction LHS 97, 10 May, 2006