Note: Although such coins could be catalogued as RIC 76 variants,
it would be an error, since they belong to a later period.

---
9th emission of Lugdunum, I - VIII 282 CE.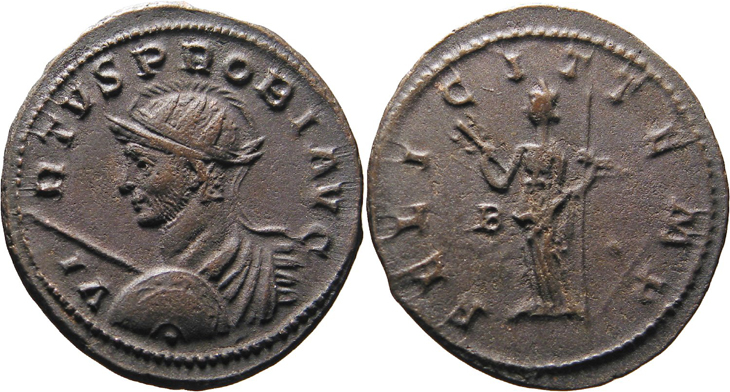 Not listed in RIC, close to Nș 117 (2); Bastien 372 (this coin); Lugdunum. Denomination: Antoninianus.

Gloucester 967 (this coin).


OBV.: IMP C PROBVS P F AVG

Radiate, helmeted, draped and cuirassed bust left, holding spear and shield, seen from back.
Pseudo-Attic helmet. Shield with sinuous & riveted rim and central boss.
Spearshaft only.


REV.: FELICIT TEMP

Felicitas standing left, holding caduceus and sceptre.

Mintmark: // B|- [short exergual line] in left field B


Weight: 4.64 g.
Die axis: ↑
Diameter: 22 mm.


Image provided courtesy of the British Museum

© Trustees of the British Museum
---
Last revision: 02.05.2017