7th emission of Lugdunum,
VII - VIII 281.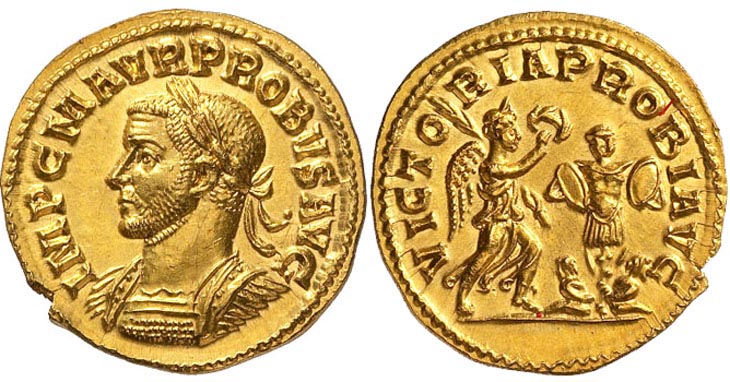 RIC 11; Bastien 302c (this coin); Calicó 4221; Pink p. 70[58]; Lugdunum. Denomination: Aureus.

Same dies as coins in the in Paris (CMP) and London (BM) collections.


OBV.: IMP C M AVR PROBVS AVG

Laureate cuirassed bust left.

REV.: VICTORIA PROBI AVG

Victory holding wreath and palm, walking r. to crown trophy which stands between two captives.

Mintmark: / (exergual line only).

Weight: 6.27 g.

Image provided courtesy of: Leu Numismatik AG

Auction Leu 93, 10 May, 2005
---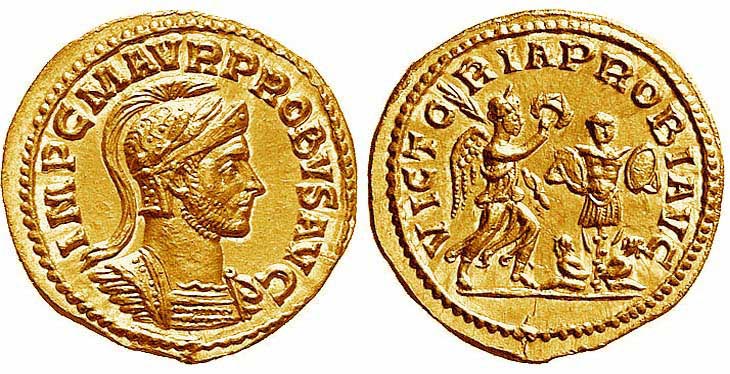 RIC 11 variant; Bastien 303 (this coin); Lugdunum. Denomination: Aureus.
Not listed for this bust type in RIC.


OBV.: IMP C M AVR PROBVS AVG

Laureate, helmeted and cuirassed bust right.

REV.: VICTORIA PROBI AVG

Victory holding wreath and palm, walking r. to crown trophy which stands between two captives.

Mintmark: / (exergual line only).

Weight: 6.60 g.

Image provided courtesy of: Leu Numismatik AG

Auction Leu 87, 5-6 May, 2003